There are currently three pumps in the Lympha Press® range. And if everything is clear with Lympha Press® PCD51 – this is the basic model, outwardly very different from the rest, then the other two models need to be dealt with. Visually, Lympha Press® Optimal Plus and Lympha Press® Optimal Mini are very similar – they have the same dimensions, about the same weight and almost the same appearance, but still the two models are different.
To facilitate the process of choosing and buying the pump you need, we have prepared this review with a detailed step-by-step analysis of all the differences between the two pumps.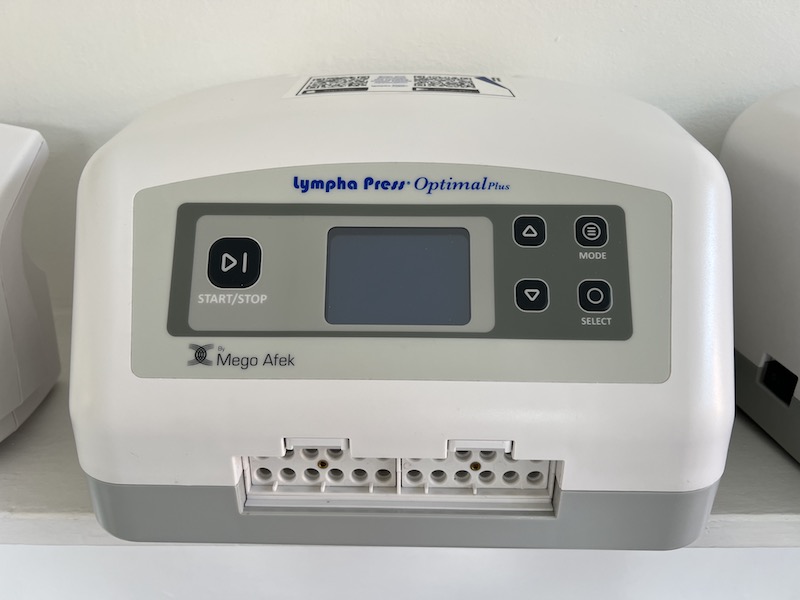 Let's start with a detailed description of each model, and below you will find the differences in a convenient tabular form.
This pump is the top of the range pump that is compatible with the most efficient garments. The main features of this pump are as follows:
Pressure level adjustment for individual chambers or in groups.
Option for skipping cells
Automatic adjustable pause between inflation/deflation cycles, for patients with mixed arterial/venous disease and other needs.
Adjustable hold at the end of the inflation cycle, for extra proximal compression time.
Option to create, export and share multiple treatment protocols.
Flexible programming options through the device console, PC software or an exclusive LymphaPress® mobile application with Bluetooth connectivity
The Lympha Press Optimal® Plus includes a selection of treatment modes:
Lympha sequential: for effective reduction of edema and fibrosis
Wave peristaltic mode: for comfortable, effective treatment in patients with distal discomfort
Pretherapy™ : designed on the principles of manual lymph drainage
Post-therapy™ : an additional exclusive mode offers therapy to a specific area after the main treatment is completed
The Lympha Press® Mini Press pump is a highly effective and compact compression therapy device designed to provide relief for patients with lymphoedema and other chronic edematous conditions.
The main features of this pump are as follows:
Compression is applied sequentially, alternating with deflation and intermission to the treated area.
Sturdy and reliable , user friendly for home use
Pressure control
Work with the Lympha Press® Mobile Application:
Lympha Press® Optimal Plus – YES
Lympha Press® Mini Press – NO
To find out more about Lympha Press® Mobile Application follow this link, where you can find our review.
For whom are made these pumps:
Lympha Press® Optimal Plus – for clinics and home using
Lympha Press® Mini Press – for home using
Let's compare a technical specifications for both pumps:
| | | |
| --- | --- | --- |
| Specifications/pumps | Lympha Press® Optimal Plus | Lympha Press® Mini Press |
| Cycle | Sequential, Wave, Pretherapy, Post-therapy | Sequential |
| Pressure range | 20-90 mmHg | 20-80 mmHg |
| Size | 34 X 24X 19,8 cm | 34 X 24X 19 cm |
| Weight | 4.5Kg | 2.9Kg |
| Electrical | 100-240 VAC / 50-60 Hz | 100-240 VAC / 50-60 Hz |