For over 35 years, Lympha Press® has produced the most-well regarded dynamic compression therapy products, and helped patients all over the world deal with Lymphoedema, Lipoedema and venous insufficiency and improve their quality of life.
Lympha Press® offers the world's most versatile and advanced dynamic compression therapy systems with proven clinical evidence in over 20 peer-reviewed publications.
During the years, their in-house R&D team has developed and utilize patent protected technologies and know-how that enables them to offer products at the leading edge of technology.
Lympha Press offer a full line of devices from a basic system designed for quality home treatment, to the most advanced system. Designed on the principle of manual lymph drainage, offering state of the art features and therapy modes.
With their state-of-the-art design for optimal treatment, easy operation and advanced treatment modes and features, their devices excel in their performance.
Their innovative, unique and patent protected garments are world-famous for their high quality and comfort. They are proud to be the pioneering leaders in offering multiple overlapping chambers for optimal oedema decongestion and innovative, groundbreaking garments.
Compliance is the key to successful treatment – The innovative design of the Lympha Press® line guarantees easy and comfortable use, for a consistent lifetime treatment !
"Can I say after only 4 days there is a remarkable improvement, we can see between the toes and her instep has reappeared for the first time in 2 years"
Quote from a mother on her teenage daughter's improvement after only 4 days of use of the Lympha Press.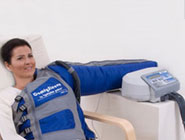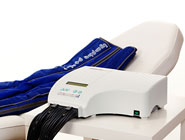 Lympha Press is a high quality compression therapy system, suitable for individual limbs; bilateral arm and leg, torso, groin, genital and abdominal treatments. Using Lympha Press products compliments manual lymphatic drainage (MLD) treatments, to help dramatically improve patient health.
The products deliver one of the safest decongestive lymphatic drainage massages available
Lympha Press compression therapy offers a much-needed advancement for medical management of lymphoedema both in-clinic and at home
From a patient's perspective, sessions are both enjoyable and relaxing
Lympha Press® Compared with In-Clinic Manual Lymph Drainage
Due to the Covid19 Pandemic Open Days are currently on-hold
Why Lympha Press® works so well
Lympha Press® products use a calibrated gradient system; allowing optimum pressure settings in up to 12 individual cells, to address discomfort and individual patient need. Advanced controls will not allow the setting of a reverse gradient, so ensuring a correct flow and better drainage.
A powerful set of products for a variety of clinical applications
The Lympha Press® is the only system to offer a complete massage solution for limb, torso, genital and thorax lymphoedema and lipoedema.
Adapted from the proven principals of Manual Lymphatic Drainage, the Lympha Press® is a compression therapy system that delivers one of the most effective and safe medical lymphatic drainage therapies available to-day.
Patent protected garments are smartly engineered allowing the patient to experience a consistent and effective massage at every use that is based upon the Vodder method of MLD massage.
From a patient's perspective each session is an enjoyable and relaxing experience, with the added benefit of volume reduction, a much-improved skin condition and reduction in fibrosis. The constant massage action softens, stretches and increases flexibility in the tissues.
Lympha Press® UK Contact Form
Indications and Contraindictions
Lympha Press®

Indications:
Primary lymphoedema
Secondary lymphoedema
Venous insufficiency
Venous stasis ulcers
Dysfunction of the muscle pump
Post mastectomy edema
Edema following trauma or sports injuries
Post immobilization edema
Lipoedema
Reduction of wound healing time
Reduction of pain and swelling after injury and surgery
Lympha Press®

Contraindications:
Use of Lympha Press® is not recommended in the presence of one or more of the following conditions:
Known or suspected deep vein thrombosis (DVT) or pulmonary embolism
During the inflammatory phlebitis process
Acute infection of the affected limb
Decompensated cardiac failure
Severe arteriosclerosis or other ischemic vascular disease
Any circumstance where increased venous and lymphatic return is undesirable
Exercise caution when using on patients with insensitive extremities
Cautions:
Due to movement of fluids in the body when using the device, use with caution on patients with heart disease. High pressure is not recommended for patients who have peripheral occlusion disease.
The abdominal area should not be treated during pregnancy.
See the User Manual for additional notes and precautions.