Lympha Press® Improving Lymphatic Flow
The range of Lympha Press® products are clinically proven to treat Lymphoedema, Lipoedema, vascular and circulatory conditions. Regular use of Lympha Press increases lymphatic function both during and after treatment sessions.
This is the leading professional compression therapy solution in the USA and Europe and Compression Therapy UK is the exclusive distributor for the UK and Ireland.
A powerful set of products for a variety of clinical applications
The Lympha Press® is the only system to offer a complete massage solution for limb, torso, genital and thorax lymphoedema and lipoedema.
Adapted from the proven principals of Manual Lymphatic Drainage, the Lympha Press® is a compression therapy system that delivers one of the most effective and safe medical lymphatic drainage therapies available to-day.
Patent protected garments are smartly engineered allowing the patient to experience a consistent and effective massage at every use that is based upon the Vodder method of MLD massage.
From a patient's perspective each session is an enjoyable and relaxing experience, with the added benefit of volume reduction, a much-improved skin condition and reduction in fibrosis. The constant massage action softens, stretches and increases flexibility in the tissues.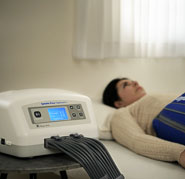 For Clinical Use For with patients suffering from Lymphoedema, Lipoedema and other mixed oedemas:
There are a wide range of pumps and garments available for both clinical and home use. For the therapists the Lympha Press® Optimal is ideal for specialist MLD practitioners wishing to deliver greater patient support and flexibility. The product provides three treatment cycles; Pre-Therapy, Lympha Gradient and Wave Mode and is easy to set up and use.
For Lipoedema patients who have had liposuction surgery, regular long term use of the Lympha Press can help to reduce the immediate post-surgical inflammation, encourage faster healing and prevent the build-up of any scar tissue. Fibrotic areas can start to build up at a microscopic level and scar tissue can get harder for up to 2 years post-surgery. Regular use of a Lympha Press compression massage can soften, stretch and increase flexibility in these tissues and improve overall skin tone.
The Lympha Press Optimal pump is also encouraged for home use.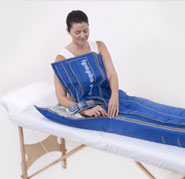 Supporting DLT and much more:
The sophistication of therapy types offered by the Lympha Press® systems can be valuable to MLD therapists in supporting decongestive lymphoedema therapy, decreasing swelling and increasing lymph drainage from congested areas. Alongside this, it can help reduce skin fibrosis and enhance the patient's functional status; whilst greatly relieving discomfort and improving quality of life.
About The Lymphatic System
The lymphatic system is part of the circulatory system. It absorbs and transports interstitial fluids back to the blood circulation. Tiny lymph capillaries take up fluids that leak out of the vein capillaries and transport this lymph fluid through larger lymph vessels. The fluid is then returned to the blood circulation.
Lymphedema and Causes
If a lymph vessel is cut or blocked, or cannot function properly, fluid (oedema) builds up in the area under the skin. Inflammation and tissue changes including fat deposition and fibrosis reduce the function of adjacent lymph vessels. This causes the disease to worsen if untreated. Limbs can become extremely large and heavy, and patients are susceptible to dangerous infections such as cellulitis
Primary lymphoedema is rare and is caused by malformed or absent lymph vessels.
Secondary lymphoedema is much more common, and is caused by disease or physical damage to the lymph vessels or nodes, such as:
– Cancer surgery/radiation or tumor blockage
– Chronic venous insufficiency disease
– Infections (for example, lymphatic filariasis)
– Accident or injury to the lymphatic system
Lympha Press® UK Contact Form