Our products are both easy and effective for home use and in demanding Professional/Clinical applications
Lympha Press® systems are designed for optimal treatment and easy operation.
The most versatile and advanced systems 
Short cycle maximizes lymphatic uptake and makes treatment more efficient.
Smart technology provides accurate pressure, for every size garment.
Adaptive pause ensures complete deflation in between compressions for lymphatic refill.
Advanced treatment sequences including Pretherapy™ based on manual lymph drainage.
Innovative and unique garments
Sturdy, high-quality garments designed for maximum patient compliance and comfort.
Multiple overlapping chambers move fluids efficiently from distal to proximal, without gaps.
Innovative, groundbreaking torso garments, and specialized extremity garments: including the patented Lympha Pants® that treat the genital, abdominal, hip and buttock areas as well as legs and our Lympha Jacket® ,Comfysleeve™ 1-75 and ComfyLite™ that treat areas that accumulate edema in breast-conserving surgeries and mastectomy: axilla, shoulder, chest, abdomen, and arm.
Pressure range 20 to 90 mmHg.
User friendly for clinic and home use.
Sturdy and reliable.
Lympha Press® systems are designed for optimal treatment and easy operation.
Lympha Press Optimal Plus with Bluetooth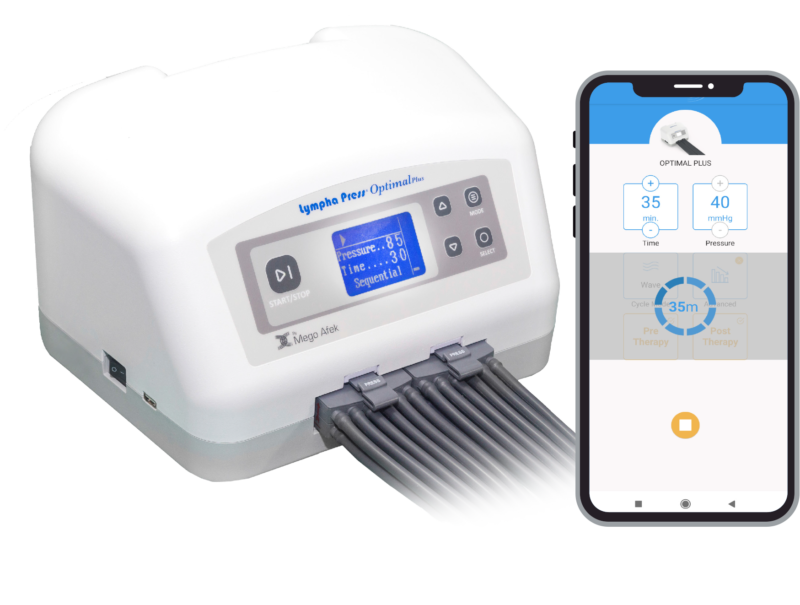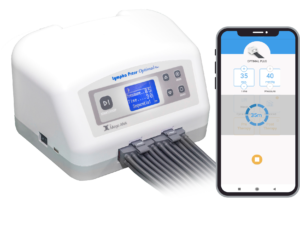 Lympha Press® Optimal Plus, model 912 – The most advanced and versatile 12 chamber dynamic compression system for lymphedema treatment on the market today.
The Lympha Press Optimal® Plus offers a broad range of unique, state of the art features for full customization to the patient's specific needs. The system, which includes a Bluetooth module for communication with the Lympha Press® mobile application, offers medical practitioners, for the first time in the market, to easily program the console and to fully customize the treatment, using their mobile phone.
The Lympha Press Optimal® Plus includes a selection of treatment modes:
Lympha sequential: for effective reduction of edema and fibrosis
Wave peristaltic mode: for comfortable, effective treatment in patients with distal discomfort
Pretherapy™ : designed on the principles of manual lymph drainage
Post-therapy™ : an additional exclusive mode offers therapy to a specific area after the main treatment is completed
Lympha Press Optimal® Plus features:
Adjustable range 20 to 90 mmHg
Pressure level adjustment for individual chambers or in groups.
Option for skipping cells
Automatic adjustable pause between inflation/deflation cycles, for patients with mixed arterial/venous disease and other needs.
Adjustable hold at the end of the inflation cycle, for extra proximal compression time.
Option to create, export and share multiple treatment protocols.
Flexible programming options through the device console, PC software or an exclusive LymphaPress® mobile application with Bluetooth connectivity
Lympha Press® Smart Technology™
Compatible with comprehensive range of unique and innovative garments, featuring patented overlapping chamber design
Multi Voltage
To find out more about Lympha Press Optimal® compatibility and features please follow this link.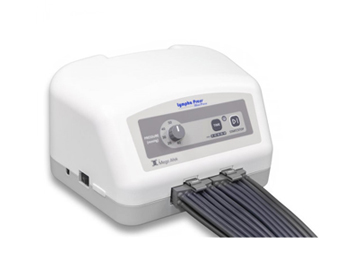 Offering 12 chamber sequential compression, with easy to use selected treatment time and pressure from 20-80 mmHg. It is multi-voltage and ideal for treatment of a wide variety of patients, at home or in clinic.
Compatible with all 12 and 24 chamber garments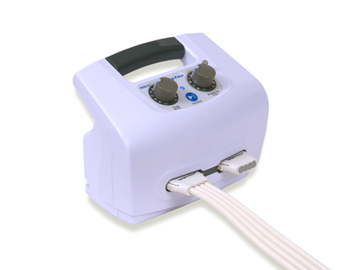 Lympha Press PCD51 is lightweight and multi-voltage which makes it ideal for travel and home use.
Pressure range is from 20mmHg – 80mmHg and this pump is compatible with all 4 and 8 chamber garments as well as the Lympha Press Jacket Lite and the Lympha Pants Lite, each with 16 chambers.
For any questions please fill this form to contact with us
Lympha Press® UK Contact Form